All about engagement: How your market is reading catalogues
The word 'engagement' may get thrown around like another one of those marketing buzzwords, but it well and truly deserves its place in our vernacular. At a basic level, engagement marketing is that which directly engages consumers and invites or encourages them to participate in the evolution of a brand. It enables you to effectively hold a conversation with customers (or potential customers) and build a relationship that has them receive and understand your core messages.
Whether for brand positioning, to showcase a new range or launch an additional product offering, or for price-based promotions, catalogues fit the bill for engagement marketing. To understand the engagement potential of unaddressed mail however, it's important to look at who is reading catalogues, and how they are reading them.
According to the recently released Australasian Catalogue Association (ACA) Industry Report, print catalogues still reign supreme. It's not just the older market that favour the more traditional print medium over digital catalogues either; research by Roy Morgan highlights this preference in all of the surveyed age demographics, from 14 year olds, right through to those in the 50+ age group.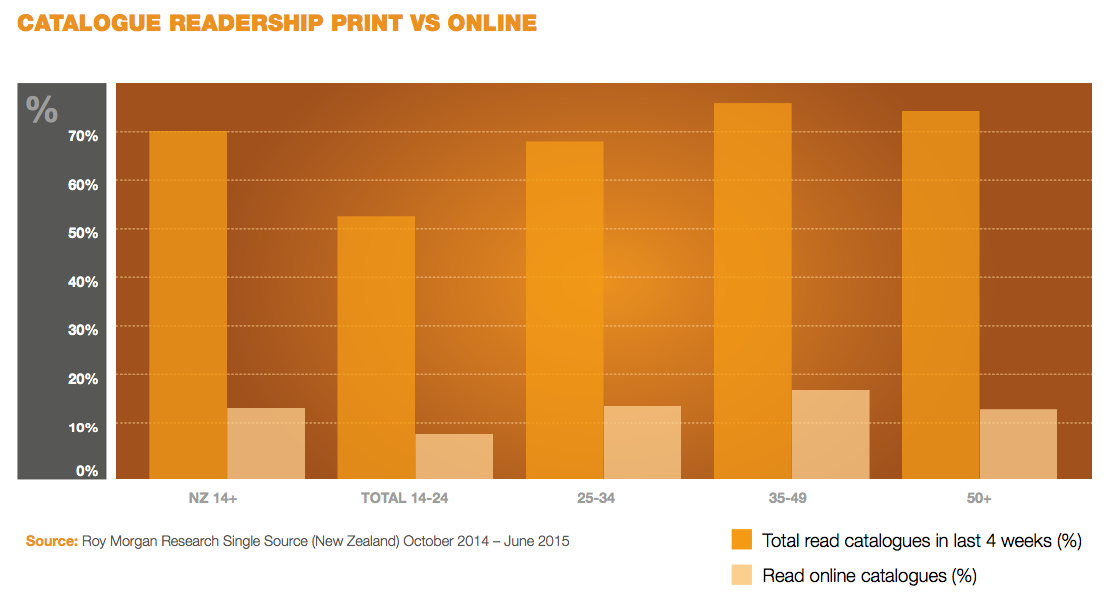 The numbers, too, are significant. 70% of New Zealanders over the age of 14 read printed catalogues in an average four week period. Looking at key customer groups, 69% of the most powerful consumer market (25-54 year olds) read printed mailers, compared to just 12% of this group engaging with catalogues online. Contrary to popular opinion too, 52% of the 14-24 year old group read printed catalogues compared with less than 10% that peruse them digitally.
Whether flicking through when they're walking back from the letterbox (the practice of 43% of people), or while sitting down (another 55%) - perhaps with a cup of tea - printed catalogues are still incredibly powerful and the fact remains that, when it comes to a channel of engagement marketing for retailers, they are particularly strong.
Encouragingly, the ACA Report found that females (aged 20-59) and 'Main Household Shoppers with Kids' were the two groups that engage the most with catalogues. In fact, 'Main Household Shoppers with Kids' were 15 times more likely than the average New Zealander to have read flyers in the last month (and 30% more likely in the last 24 hours.) According to the report, this group are 37 times more likely to say that catalogues are their preferred way to hear about new products and services and 46 times more likely to prefer direct mail for news of sales and promotions. Even for those without young children - those captured in the 'Females aged 20-59' category – catalogues are 33 times more likely to be used to compare prices. This second powerful consumer group are also 51 times more likely to "very often" buy something that they have seen in a catalogue.

Although this group are 63% more likely to keep a catalogue for future reference, in general terms, speed of getting your messages to consumers is a key benefit of the letterbox channel. Unlike a long lead magazine that may sit around on petrol station or supermarket shelves, and then on the coffee table at home for easily a month or two, catalogues are delivered right when you schedule them and are read virtually immediately. The ACA Report found that 42% of people read their mailers either while walking from the letterbox or as soon as they get inside, with another 22% setting it aside to browse later that day.
With reliable readership numbers and habits shedding light on consumers' practices, it's clear that as far as engagement marketing goes, catalogues still take the cake and form an important part of a retailers' strategy. To up your engagement game, give the team at Pumpt a call today.